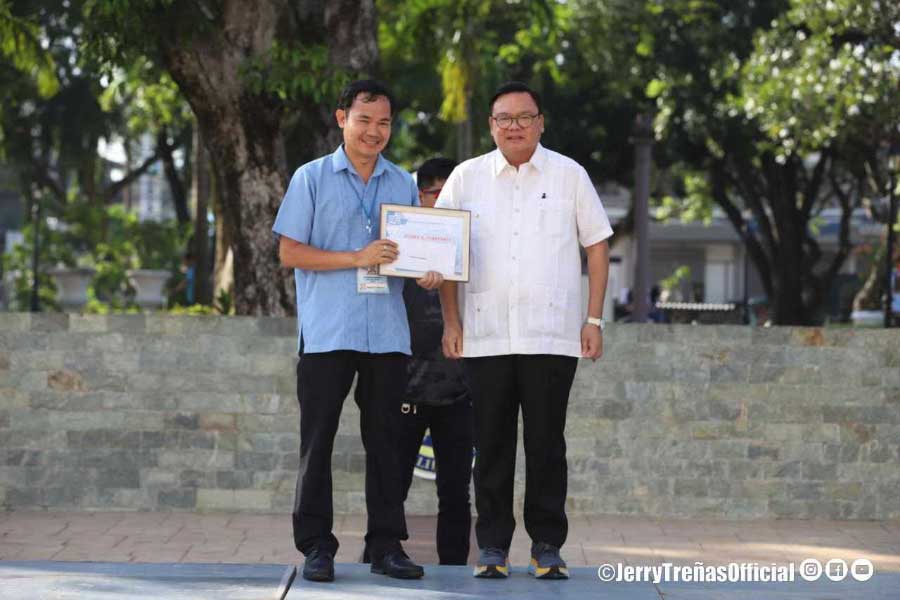 By Rjay Zuriaga Castor 
Iloilo City would not be what it is today if not because of the dedicated administrative officers who ensure the organization of the offices, the healthcare professionals who meet the health needs of the Ilonggos, and the street sweepers who maintain the cleanliness of the streets.
As one of the highlights of the 86th Charter Day celebration, the Iloilo City government on Tuesday awarded 33 of its workers as the Most Outstanding City Government Employees this year.
"Each day we enter the halls of this building, I have witnessed your hard work and dedication to serving our citizens," Iloilo City Mayor Jerry P. Treñas said during the awarding ceremony on Tuesday.
Treñas emphasized that what he appreciates about the recognized employees is knowing that they do not see the work as a responsibility but rather an opportunity to contribute to the progress of the city and help the Ilonggos.
"May this inspire us all to reach new heights and continue to transform our city for the better," he added.
They received a certificate and a P3,000 cash incentive.
Seventeen were feted as the Outstanding Employee of the Year, namely:
Jeehan Fernandez (City Mayor's Office)
Andrew Murray Durano (Office of the City Veterinarian)
Dolores Ecoy (City Population Office)
Mirasol Gupiteo (City Health Office)
Hartford Denver Acapulco (City Planning and Development Office)
John Lester Pallada (City Civil Registrar's Office)
Josephine Vinegas (Local Economic Enterprise Office)
Allan Hautea (City Assessor's Office)
Lawrence Mark Ang (Office of the City Accountant)
Lourdes Estrella Dysuangco (City Environment and Natural Resources Office)
Elisel Luna Abe (Office of the City Agriculturist)
Marisa Jover (City Budget Office)
Angeles Monong Jr. (Human Resource Management Office)
Julianito Padilla Jr. ( Office of the City General Services)
Love Joy Hosenilla (PSTMO)
Felicisimo Barcelona Jr. (Sangguniang Panlungsod)
Ruby Bedia (City Social Welfare and Development Office)
Healthcare workers from the City Health Office were also recognized for their contributions in their respective fields.
Analeen Galilea, Nurse of the Year
Marivic Filomeno, Midwife of the Year
Maria Jennifer Anceno, Doctor of the Year
Ana Marie Cruz, Dentist of the Year
Freeman Panaguiton, Misting Personnel of the Year
Other employees of various departments were also hailed for their commitment to public service.
George Paredes, Slaughterhouse Staff of the Year
Raima Pasandalan, Accountant of the Year
Annabel Tambogon, Urban Gardening Staff of the Year
Cynthia Salgado, Street Sweeper of the Year
Reynaldo Gonzales, Street Sweeper of the Year
Ryan Dellomes, Traffic Aide of the Year
Elpe Mae Cabillon, Police Auxiliary of the Year
Ronilo Papa, Emergency Medical Services Responder of the Year
Marlon Martinez, Social Worker of the Year
Michelle Lopez, Service Award
Maria Mathilde Treñas, Service Award