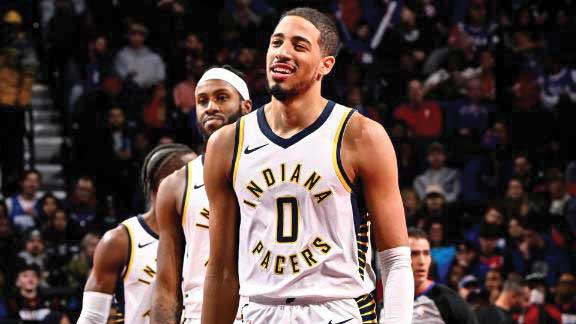 By Leobert Julian A. de la Peña
The streak busters are in the building.
Facing a waxing-hot Philadelphia 76ers team that is aiming for their ninth consecutive win in the ongoing NBA season, the Indiana Pacers embraced the challenge and snapped their eight-game winning streak, 132-126, last November 15, 2023.
Indiana's young floor general Tyrese Haliburton continued his efficient outing for the Pacers after leading the way with 33 points, 15 assists, seven rebounds, two steals, and a block.
The savvy superstar once again finished an NBA game without a single turnover and tallied an impressive +19 on the +/- stat-line.
Haliburton's court vision helped the Pacers dictate the tempo of the game and also picked his spots offensively, firing 11/18 from the field.
Former New York Knicks power forward Obi Toppin also broke out for Indiana and registered his season-high in points, dropping 27 markers alongside six rebounds and a steal.
Unlike their first meeting where the 76ers took full control of the game from the get-go, it was the Pacers this time that took command from the opening frame.
Indiana doubled their effort in the rebounding department after pulling down 10 offensive boards compared to Philadelphia's five.
Despite a 39-point outing from reigning Most Valuable Player (MVP) Joel Embiid, the 76ers struggled to get some defensive stops which allowed Indiana to push the pace and execute their run-and-gun game plan.
With things going Indiana's way, the visiting Pacers squad ballooned their lead to as much as 13 points in the second half and were looking to pull away.
However, the 76ers flipped the switch in the fourth quarter and were firing from all cylinders in the first six minutes to regain the advantage off a Tobias Harris conversion.
The Pacers refused to give up their momentum and answered with another insane scoring burst, completing an 11-2 run that created enough cushion in the final stretch of the game.
Tyrese Maxey added 27 big points for the 76ers but only shot 9/23 from the field. Philadelphia is still missing starting forward Kelly Oubre Jr. who is still nursing a rib injury he suffered from a vehicular accident.