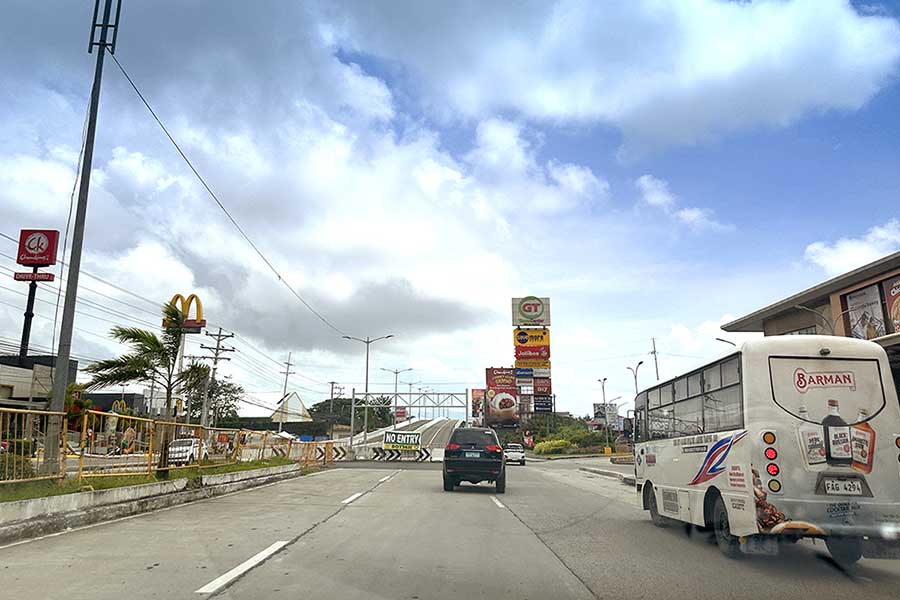 By Rjay Zuriaga Castor
The Department of Public Works and Highways-Western Visayas (DPWH-6) is keen on opening the defective Ungka flyover to light vehicles today, September 22, amid concerns and criticisms that it is unsafe to both motorists and commuters.
"Dayun ta opening buas but with continuous monitoring," DPWH-6 director officer-in-charge Sanny Boy Oropel told Daily Guardian in a phone interview on Thursday afternoon.
Tomorrow, the Ungka flyover will be open from 6 a.m. to 9 a.m. and 4 p.m. to 8 p.m. Only the interior lane of the four-lane flyover will be opened to four-wheeled vehicles, including traditional and modernized jeepneys.
While acknowledging the recent surge in opposition, Oropel noted that the decision was rooted in the demands and requests of the public.
"Lately kadamo sang naga siling but before we decided to open the Ungka flyover, we already [had the basis] to open it to light vehicles because of our analysis […] Ano gid bala ang problema kay we have all the basis why we will open this bridge because of the demand," he said.
Apart from the demand to open it to ease the trafficking congestion in the area, Oropel emphasized that the decision to reopen the flyover was made based on a careful analysis of the situation.
"We already made our decision with the basis on how we decided on that. I hope indi pagtaagan ang mga commuters natun sang additional nga kakulba kung wala man lang basis," he said.
In January 2023, DPWH-6 conducted a static load test on the flyover and a dynamic traffic loading test on August 22-31.
The dynamic traffic loading test, in particular, was divided into three load configurations which include the passage of a total of 14 loaded dump trucks with a gross weight of 20 tons each and 72 light vehicles.
DPWH-6 said the load lasted for 1 hour to 3 hours and 30 minutes, with the vehicles going in a maximum of 66 cycles with a maximum speed of 40 kilometers per hour.
After the two load tests, no vertical displacements were observed or monitored and no noticeable manifestations of any distress were spotted in the superstructure according to DPWH-6.
Without mentioning names, Oropel threw potshots at those who insinuated fear that the flyover is not safe to be used even for light vehicles.
"Tani mabuligan na sila pag-intyendi. Kung indi i-open, damo man reklamo. Anay i-open, damo man istorya. Indi ko ma-intyendihan. Nagligad okay man sila tanan, anay nga subong daw kadamo sang resistance," he stressed.
Oropel urged those who oppose the flyover's opening to submit their investigations and analysis that can prove that the move to reopen the Ungka flyover is unsafe.
"Ipagwa man nila ang ila analysis why they have some apprehensions regarding sa pag-open sa traffic. […] Wala man sila basis. Wala man sila nag-ubra sang study. Wala man sila sang kung ano ang gin testing [natun]. Ang ila gin tan aw lang ang settlement though wala naman sang settlement," he added.
Oropel issued the challenge after Ilonggo structural engineer Nilo Jardeleza, in an interview with Aksyon Radyo Iloilo, expressed concerns about the horizontal or lateral displacement of the flyover once reused.
"Ang ginakulbaan naton ang horizontal displacement or lateral displacement. Halimbawa ang salakyan mag-agi sa yahong, daw may hump na so may impact na siya—impulse momentum sa physics. So gamay lang na pero kun sige-sige gadugang na," he said.
Jardeleza also highlighted that the DPWH-6 should closely monitor the structural changes in the flyover, particularly the girder and the deck beams that rest upon it.
"Samtang nagadaku ang kat-al nagabuhin ang ginatungtungan niya kun maubos ang ginatungtungan ya sina ti madagdag ang girder. Kun kargahan mo na sang moving load indi lang basehan naton ang vertical displacement," he stressed.
Meanwhile, Iloilo City Mayor Jerry Treñas, Iloilo Provincial Governor Arthur Defensor Jr., Pavia town mayor Luigi Gorriceta, and Congressman of the 2nd District of Iloilo Michael B. Gorriceta said the opening of the Ungka flyover to light vehicles will ease the heavy traffic in the area.
Oropel, however, said that the reopening is only temporary as the flyover will be closed for rectification works on its sinking piers once the funds are available.