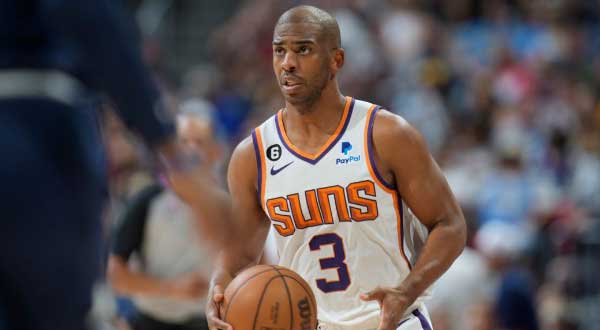 By Leobert Julian A. de la Peña
The Chris Paul era with the Phoenix Suns might be over.
After three playing seasons with the prestigious organization, the Suns front office already considered waiving Paul confirmed last June 7, 2023.
The official announcement came after Bleacher Report's veteran NBA insider Chris Haynes said that the Suns already notified Paul that he will be waived this off-season, making him the biggest name in the free agency so far if no remedy will be provided by Phoenix.
For the second-straight year, the Suns suffered another early NBA Playoff exit after getting eliminated by Nikola Jokic and the Denver Nuggets during the Western Conference semifinal round.
The Suns had a chance to steal Game 2 on the road that would've equalized their series to 1-1 before heading back to Phoenix for games 3 & 4.
However, Paul injured his groin midway through the third quarter of Game 2 which allowed the Nuggets to snowball their way to a dominant fourth-quarter rally and take a 2-0 advantage.
Paul then missed all the remaining games due to the severity of his injury and could only watch the duo of Jamal Murray and Jokic torch Kevin Durant and Devin Booker to advance to the Western Conference finals and the NBA Finals.
It was a historic start for Paul after signing a contract with the Suns last 2020 season when he immediately led the young team to an NBA Finals appearance.
Paul's consistent playoff performance and ball wizardry helped Phoenix get out of the Western Conference after eliminating the Los Angeles Lakers, Denver Nuggets, and the Los Angeles Clippers to setup a championship dog fight with the Milwaukee Bucks.
However, Paul and the Suns lost to Giannis Antetokounmpo and the Bucks in six games and were determined to make another championship run the following year.
Things got worse during the next season as the Suns got blown out by Luka Doncic and the Dallas Mavericks during Game 7 on their own home floor and tasted another playoff defeat despite a healthy roster.
High expectations then surrounded the whole Phoenix organization after landing Durant during the midseason this year but the loss to the Nuggets urged the front office to revamp their roster.
Moves were already done by the management after firing Monty Williams who is now replaced by former Lakers chief mentor Frank Vogel.
As of now, trade talks involving Paul and the other franchises are yet to be disclosed but rumors are already spreading that several teams are drawing interest to sign the floor general next season.
What team will land CP3? Or will he stay with the Suns?