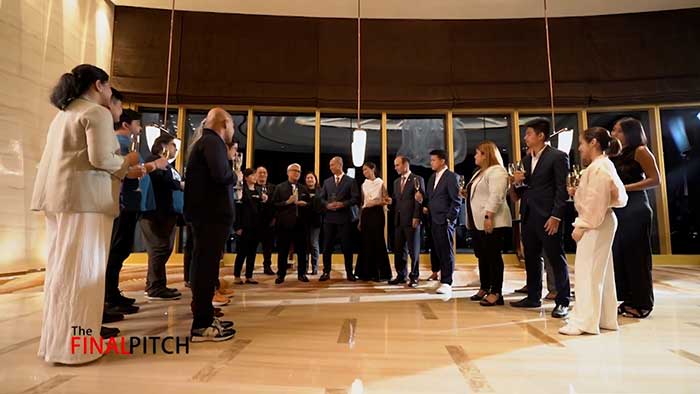 The Final Pitch, the country's leading business reality show, has concluded its ninth season with a startup securing half-million dollar funding and extensively diverse mentorship opportunities for participating entrepreneurs from the esteemed panel of investor-judges, nurturing the immense potential and innovation that continues to thrive in the world of entrepreneurship.
Aligned with the show's overarching theme of "Open Edition," which champions diversity and inclusivity, technology and non-technology entrepreneurs who advanced to the finale were met with invaluable offers from the investor-judges.
Mylo Speech Buddy System, a video-streaming platform for children on the autism spectrum, garnered support for a kickstarter campaign launch from Brian Poe-Llamanzares, President of Pantheon Holdings. While Unisol, a clothing company, received a deal from Robert Scott, Vice President for Hotel Operations of Okada Manila, to be the supplier for the hotel's uniform requirements.
Furthermore, Mommyki, a super app for pets, and Likhaan, an online platform for artists and artworks, both earned an offer of embedding goods insurance from Rico Bautista, President and CEO of Etiqa Life & General Assurance Philippines.
The 10-episode series, hosted by show creator John Aguilar, has featured a dynamic range of cutting-edge business ideas and entrepreneurial ventures leading up to the final pitches by the remaining nine startups:  JLabs, Skooltek by EdFolio, Nars, Unisol, Likhaan, Metafarms, Mommyki, C3Q Technologies Inc, and Mylo Speech Buddy System.
The anticipated moment of the season unfolded when JLabs, an offshore tech development firm headed by CEO Julius San Pascual, clinched a half-million dollars multi-year engagement for projects with UnionDigital Bank, offered by Henry Aguda, President and CEO of UnionDigital Bank. JLabs also received a strategic partnership from Poe-Llamanzares to provide marketing and branding strategies for local client acquisition. Moreover, earned assistance in connecting to the UK's tech ecosystem from the British Ambassador to the Philippines, Her Excellency Laure Beaufils.
San Pascual shared in the ninth episode, "I'm very grateful to be here and get an offer more than what we are looking for. Overall, we are very grateful and happy. Hopefully, we can inspire other entrepreneurs."
The show's dedication to opening doors for entrepreneurs and start-ups has consistently shown with offers tapping market reach opportunities. Skooltek by EdFolio, an AI Integrated School Management System, acquired an offer of expanding linkages in Thai and Indonesian markets from Poe-Llamanzares. Meanwhile, Web3 phygital farm Metafarms, received an invitation from Israeli Ambassador to the Philippines, His Excellency Ilan Fluss, to engage in potential collaboration within the technology and agricultural sectors in Israel.
This season's investor-judges have also provided mentorship advantages to the entrepreneurs to give them guidance and expertise needed to navigate the challenging waters of entrepreneurship. Poe-Llamanzares has offered mentorship to the healthcare on-demand platform, Nars, to solidify its business model, branding consultation to C3Q Technologies Inc., a Web3 Solutions company, and marketing consultation to Likhaan.
Reflecting on the show's journey, Aguilar stated, "This season was all about breaking down barriers and providing a platform for startups with innovative ideas. Witnessing the purpose, growth, determination, and sheer brilliance of these entrepreneurs has been truly inspiring, and we have witnessed the birth of industry game-changers."
The show, since its first season, has served as a pivotal platform for aspiring entrepreneurs, enabling them to cultivate innovation and transform their big business ideas into promising ventures toward nation-building.
The Final Pitch Season 9: Open Edition, in partnership with Uniquecorn Strategies as their official public relations (PR) partner, was aired on CNN Philippines, and the entire series is now available for viewing on The Final Pitch YouTube channel. Preparations are currently underway for the show's 10th season, with The Final Pitch team on the lookout for the upcoming season's investor-judges.