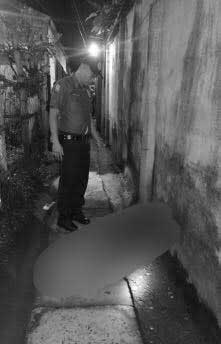 By Glazyl Y. Masculino
BACOLOD City – An alleged drug personality and two other persons were gunned down in separate incidents in Negros Occidental on Thursday and Friday.
In San Carlos City, Ma. Regina Bascones, 38, of Barangay 2 was killed by an unidentified person in Barangay 5 last Thursday.
Police Major Ryan Villasario, deputy chief of San Carlos City Police Station, said the perpetrator tailed the victim while she was walking.
The suspect then shot her in the head and body which caused her death. She was taken to San Carlos District Hospital where she was declared dead.
Police recovered from the scene a fired bullet and a slug of .45-caliber ammunition.
Villasario said the victim was an alleged street level individual in the city who was previously arrested for a drug offense.
He said they are looking into the possibility that the victim failed to pay for the illegal drugs.
"Onsehanay naman siguro kay basi wala siya kabayad," he added.
He said they already have a person of interest. He said that they are also not disregarding other possible angles.
More than three drug-related killings have been reported in the city in the past months.
Villasario said that it's possible that the liquidation of alleged drug personalities could be part of a drug group's rule when it comes to failed illegal drug transactions.
He said that one drug group is reportedly existing in the city, but he refused to elaborate further.
In Sipalay City, a 38-year-old man was also killed by three unidentified persons in Barangay Manlucahoc last Wednesday.
Based on police investigation, the victim, along with his wife and son, went home after watching television from their neighbor when the armed persons approached them and asked for the victim's name.
When the victim confirmed his identity, the suspects allegedly shot him which caused his death.
On that same day, a man was also killed by an unidentified person in Barangay Minautok, Calatrava town.
Police Major Ronald Santillan, town police chief, said the victim was walking on his way home when he was shot to death.
He said the victim had a previous case and would reportedly usually act rude whenever he was drunk.
He said they are looking into something personal as a possible motive as there might be someone who may have anger against him due to his behavior.