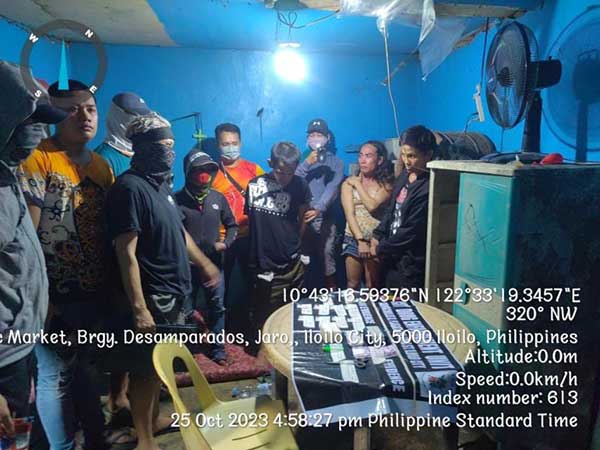 By Jennifer P. Rendon
Three persons were arrested in a police anti-illegal drug operation afternoon of Oct. 25 at Jaro, Iloilo City.
Authorities identified the trio as Aniceto dela Cruz alias Toto, 38, of Barangay Rizal Pala-Pala, City Proper, Iloilo City; Rodlou Solano alias Rhoda, 46, of Barangay Desamparados, Jaro; and Raffy Fuentespina alias Kapid, 28, of Barangay Tabucan, Dumangas, Iloilo.
Members of the Iloilo City Police Office-City Drug Enforcement Unit (ICPO-CDEU), together with the Iloilo City Police Station 3, arrested the three after they allegedly connived in selling a sachet of suspected shabu for P10,000.
Police later recovered eight more sachets of suspected shabu, a pouch, a weighing scale; a pair of scissors, two lighters, an improvised tooter and five bundles of transparent plastic sachets.
The seized drugs weighed around 80 grams with a standard drug price of P544,000.
Benitez said dela Cruz was the target of their operation.
While the police knew he had cohorts, they could not identify them until the arrest of Solano and Fuentespina.
Dela Cruz was jailed for a robbery case.
Solano admitted that he was also arrested for a drug-related offense and was able to serve his sentence.
Police considered both suspects as high value individuals.
Fuentespina, on the other hand, had no previous arrest. He is considered an alleged street level pusher operating in Dumangas town.
Benitez said the group set the transaction at an abandoned house in Desamparados village.
Police noted several houses have been abandoned in the area after their owners were either arrested for an illegal drug offense or have fled for fear of getting arrested.
Benitez said dela Cruz claimed he was sourcing his supply from outside Iloilo.
The three suspects are now detained and will be charged with violation of Republic Act 9165 (Comprehensive Dangerous Drugs Act of 2002).