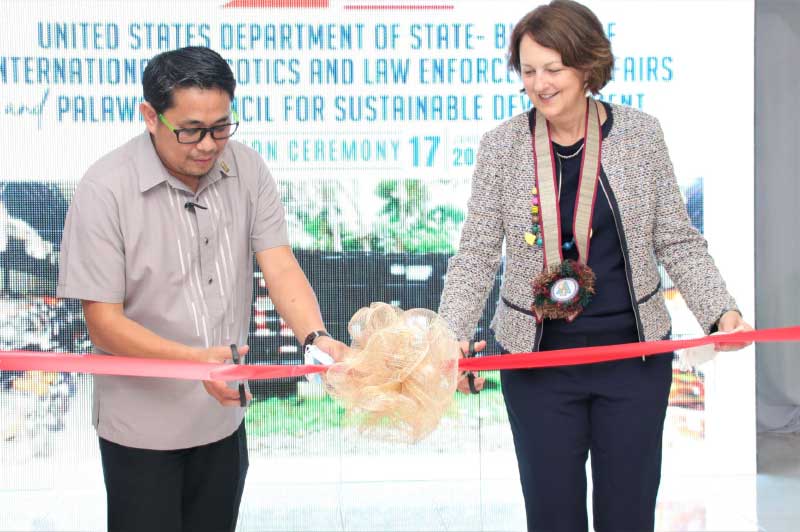 On Tuesday, the United States government donated three evidence containers, valued at Php 1.6 million ($30,700), to strengthen the capacity of the Palawan Council for Sustainable Development (PCSD) to properly retain confiscated contraband and evidence presented in the prosecution of wildlife traffickers and persons engaging in environmental crime.
The equipment handover at the PCSD headquarters in Puerto Princesa City was led by visiting U.S. Department of State Bureau of International Narcotics and Law Enforcement Affairs (INL) Principal Deputy Assistant Secretary Lisa Johnson.
"INL is strongly committed to doing everything it can to disrupt the criminal networks behind wildlife trafficking.  Building our partners' capacity to investigate and prosecute environmental crimes is a priority for the U.S. government," said Johnson at the turnover ceremony.
PCSD Executive Director Niño Rey Estoya thanked the U.S. government for its continued support, noting the donation would be critical in ensuring that cases PCSD teams investigate and prosecute over several months are not dismissed for technical reasons.   The secured storage units are expected to improve the PCSD's adherence to chain of custody requirements, making evidence more likely to be admissible in court.
According to the Asian Development Bank, the value of the global illegal wildlife trade is estimated at between Php 548 billion ($10 billion) to Php 1.26 trillion ($23 billion) per year, making wildlife crime the fourth most lucrative illegal business after narcotics, human trafficking, and arms.
INL's support for environmental justice in Palawan began in 2019 through a Php 28 million ($500,000) partnership with the U.S. Forest Service to strengthen the institutional capacity of PCSD and its law enforcement partners to combat and prevent environmental crimes.
Globally, INL assists partner governments in assessing, building, reforming, and sustaining competent and legitimate criminal justice systems.  It also develops and implements the architecture necessary for cross-border law enforcement cooperation.