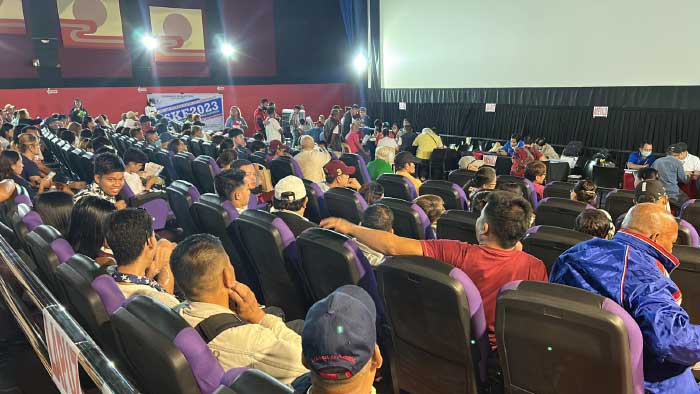 By Rjay Zuriaga Castor
Around 1,400 aspiring candidates for the Barangay and Sangguniang Kabataan Elections (BSKE) swarmed the first day of the filing of certificates of candidacy (COC) at Robinsons Place Iloilo on Monday.
Jonathan Sayno, Election Officer II of the COMELEC-Iloilo City, said they did not expect an overwhelming turnout on the first day, stating that they initially projected 1,200 aspirants to submit their COCs.
"More than sa gina expect natun ang nagkaladto subong di nga mga filers that's why daw naguba ang sistema, kinulang kita sa pulungkuan, damo nagapasinigit kay gin kapoy na sang tindog," Sayno said in interview with Aksyon Radyo Iloilo.
The venue for the filing of COC in the Robinsons Place Iloilo is at Cinema 5 and 6. The long queue of aspirants even reached the mall's carpark area.
Meanwhile, Sayno said they will coordinate with the city government to secure additional chairs for the aspirants.
In order to accommodate the aspirants who arrived at the venue before it ceased accepting COCs at 10 a.m., the COMELEC decided to place stamps on the aspirants for identification and verification.
"Gin decide nga gin pamutangan tatak ang ila nga mga butkon para to prove nga nagkadto sila kag ang ina nga ginpang tatakan nga mga filers. Amo na ang aton palatanadaan nga i-accomodate sila maskin maglapaw pa kita sa 5 o'clock," Sayno explained.
"Kung wala sila matatakan, balik naman buas nga adlaw," Sayno added.
The COMELEC will accept COCs until September 2, from 8 a.m. to 5 p.m.
According to Nestor Canong, chief of the city government's Task Force on Morals and Values Formation (TFMVF), aspirants, particularly those running for the Sangguniang Kabataan elections, opted to file their COCs on Monday since its holiday (National Heroes' Day).
Sayno sternly reminded aspirants to print their COCs on both sides (front and back) of a folio (8.5″x13″) or legal (8.5″x14″) size of copy paper.
Some more reminders Sayno added is to attach a passport-sized photo taken within the last six months to each copy of the COC and affix a P30 documentary stamp in one copy of the COC with the documentary stamp number written on the remaining copies.
Failure to follow the prescribed format could result in denial or the COMELEC central office considering the submission as not filed.
COMELEC-Iloilo City is expecting at least 8,000 aspirants for the BSKE in the 180 barangays across the city's seven districts.