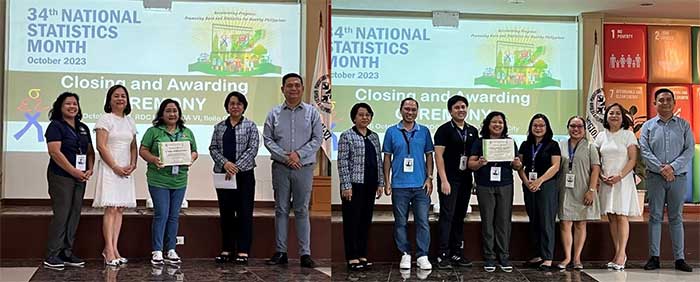 In recognition of all the efforts of the National Statistics Month (NSM) participating organizations and individuals, Western Visayas concluded the 34th NSM Celebration through a Closing and Awarding Ceremony at the RDC Hall of the NEDA Regional Office VI, Iloilo City on 26 October 2023.
The ceremony was spearheaded by the Bangko Sentral ng Pilipinas Visayas Regional Office and Iloilo Branch and was attended by representatives of the Regional Statistics Committee (RSC), NSM member agencies, local government units, academe, media partners, private sectors, and winners of the different contest categories.
The annual observance of the NSM is pursuant to Presidential Proclamation No. 647, "Declaring the Month of October of Every Year as the National Statistics Month," issued on 20 September 1990 by then President Corazon C. Aquino.
During the month-long celebration, region-wide activities undertaken were as follows: statistical infomercial, statistical infographics, and photography contests open to all NSM participating agencies; essay writing for college students; e-poster making and StatisTiktok for high school students; regional statistics quiz for junior high school students; inter-agency tree planting activity; and 27th Philippine Statistics Quiz Provincial Eliminations.
The region and the six provinces conducted their respective culminating activities.
University of the Philippines – Visayas was awarded as the Best 34th NSM Agency while Provincial Statistics Committee (PSC) of Guimaras was hailed as the Best PSC for CY 2022.
The winners of the different contests were posted on the 34th National Statistics Month – Western Visayas Official Facebook (https://www.facebook.com/34nsm).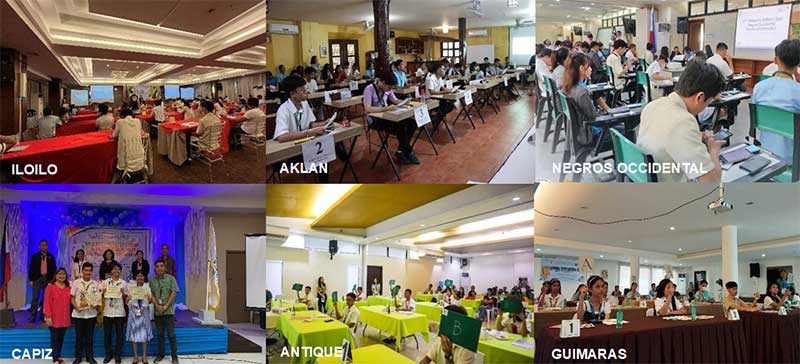 Meanwhile, six provinces in Western Visayas simultaneously conducted the 27th Philippine Statistics Quiz (PSQ) Provincial Elimination on October 25, 2023, as part of the 34th National Statistics Month.
The PSQ aims to evaluate first year secondary education students' proficiency in statistics, increase students' knowledge of statistics, and raise public awareness about the significance of statistics in development planning.
The provincial elimination will determine the top three provincial representatives in the regional championship scheduled on November 10, 2023.
First-year students from various universities and colleges in their respective provinces vied for the top three. After three rounds, the following are the top three winners for each province:
Aklan
Jeriah Borreros of Aklan State University (ASU) – Kalibo
Jedel Idolog of ASU – Kalibo
Rob Joseph Emman D. Ricamonte of ASU – Ibajay
Antique
John Kevin Escaro of University of Antique (UA) – Hamtic Campus
Gyrline Joy G. Obuela of UA – Hamtic Campus
Ricky John C. Labanon of UA – Hamtic Campus Capiz
Christian Roy A. Duran of Filamer Christian University (FCU)
Melvel John N. Amarillo of FCU
Loraine R. Andrade of Colegio Dela Purisima Concepcion
Guimaras
Robelyn P. Galfo of Guimaras State University (GSU) – Main Campus
Johnna Mae G. Cacho of GSU – Mosqueda Campus
Joshua G. Mayola of GSU – Baterna Campus
Iloilo
Czarina Alexandria D. Dela Llave of West Visayas State University – La Paz
Nicholas Mason C. Jontarciego of Central Philippine University
Joseph Mikhaeli A. Jalandoni of Iloilo Science and Technology University – La Paz Negros Occidental
Josh Dane M. Labistre of University of St. La Salle (USLS)
Francis II S. Mapa of University of Negros Occidental – Recoletos
Clean Heart R. Alova of USLS
The ultimate victor of this competition will then represent Western Visayas in the national championship on December 7, 2023, in Metro Manila.