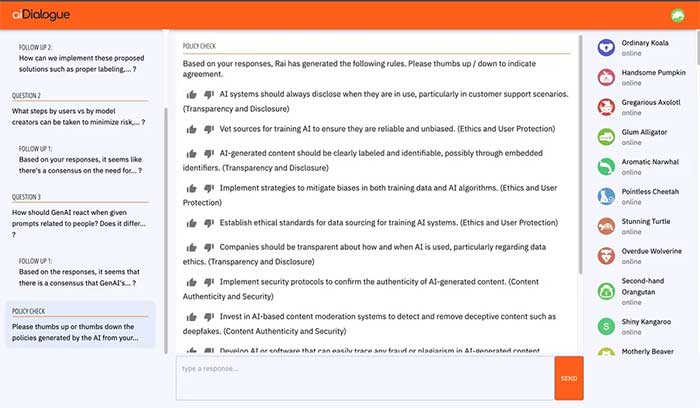 By Francis Allan Angelo
Artificial intelligence is here, and it will stay for good.
Even news media cannot anymore ignore the impact of AI in its operations. Let's face it, there is no way to go but tackle and even use AI to reinforce the important purpose of journalism for public good.
Online news media Rappler recently hosted a forum that mainly tackled AI as a tool for bringing public good.
Last week, I took part in a focus group discussion on AI use and ethics using 'Rai,' Rappler's AI moderator.
Here are some updates we got from Rappler's latest bulletins:
Meet 'Rai,' Rappler's AI moderator gathering opinions on artificial intelligence
Do you have ideas for governing the use of artificial intelligence? Why not share it with "Rai," an AI moderator created by Philippine news site Rappler?
Rai moderates aiDialogue, an experimental consultation chat room launched by Rappler on September 16 at the 2023 Manila Social Good Summit, which gathered key leaders in technology, government, business, and civil society.
The goal of aiDialogue is to gather insights and suggestions on how to address the potential harm brought by AI, and how humans can manage technological advancements in an ethical and sustainable manner.
In aiDialogue, Rappler prompted large language model-based chatbot ChatGPT to assume the persona of Rai, a focus group discussion moderator.
Rai will compile user feedback, summarize the conversations, and pose questions to the participants. It will then provide recommendations for laws and policies that should guide how AI systems behave. The participants are kept anonymous to protect their privacy, reduce name-calling, and maintain the focus of the discourse.
"We want you to be part of it…. Let's let Filipino voices be heard in determining policy for large language models," Nobel Peace Prize laureate and Rappler CEO Maria Ressa said during the 2023 Social Good Summit. The summit attendees were given the chance to connect to the platform and participate in the discussion.
Rappler will extend access to aiDialogue to attendees of Rappler's roadshows and other in-person events in the upcoming weeks. To express interest in taking part in aiDialogue, send an email to openai-experiments@rappler.com.
aiDialogue is part of a multi-form and multi-layered process that Rappler proposed to OpenAI, the American artificial intelligence research laboratory behind ChatGPT. Rappler is one of the 10 organizations which OpenAI chose to conduct "experiments in setting up a democratic process for deciding on rules AI systems should follow within the bounds of law."
Hosted regularly by Rappler, the Manila Social Good Summit is a gathering of citizens, innovators, and thought leaders who are working together to achieve the sustainable development goals (SDGs) by 2030. 
The 2023 SGS was the first face-to-face summit since the pandemic, held at the Samsung Hall, SM Aura Premier, in Taguig. It had the theme "#TurningTechForGood: From problem to solution." 

The event was headlined by 67th US Secretary of State Hillary Rodham Clinton, Philippine Chief Justice Alexander Gesmundo, Facebook whistleblower Frances Haugen, tech entrepreneur Andrew Keen, and Google global vice president of news Richard Gingras.
***
Collaborate to use AI for good, say experts, industry leaders
To prevent the misuse and exploitation of artificial intelligence (AI), sectors and industries using them need to dialogue and collaborate with each other, experts said at a recent summit organized by news site Rappler.
Panelists at the 2023 Social Good Summit (SGS), held on September 16 at the Samsung Hall in Taguig, spoke about what organizations and society as a whole could do to create an environment conducive to tech reform and mitigating further societal harm by AI.
Erika Fille Legara, Aboitiz chair in data science at the Asian Institute of Management, said the main hurdle for organizations pursuing digital transformation is internal resistance to change. This is rooted in the organization's culture and among its employees, she said.
"Having honest conversations and not alienating [others] would really help. We need everybody's help," Legara said.
Rene Almendras, senior managing director of Ayala Corporation, stressed that organizations should have a good understanding of their "true North" when using AI, so that leaders and employees use technology "for the right reasons."
"We go back to the values of the institution…. Every institution needs to draw that line. We have a written policy…that will tell us [to] follow ethics or the code of conduct on social media use by the company," Almendras said.
Alex Pama, former executive director of the National Disaster Risk Reduction and Management Council, said that navigating technology requires a whole of society approach.
"Not one sector will be able to have the answer…. There should be a concerted effort by everybody now…to speak about the things that need to be improved on, developed further, and highlight those that are destructive in nature,'" Pama said.
Julie Posetti, the global director of research at the International Center for Journalists, stressed the necessity of having intelligent regulation for AI.
"Every government wants to basically manage and control the information space. So think twice when you start going down the road of regulating the information space. Not that it shouldn't, but how to do it right…. Because when they (government) heard from this one person that AI is evil, suddenly, okay, we cannot use AI, we have to start regulating things without really properly understanding how to balance the perils and the promises of AI," Posetti explained. (Rappler Media Bulletin)