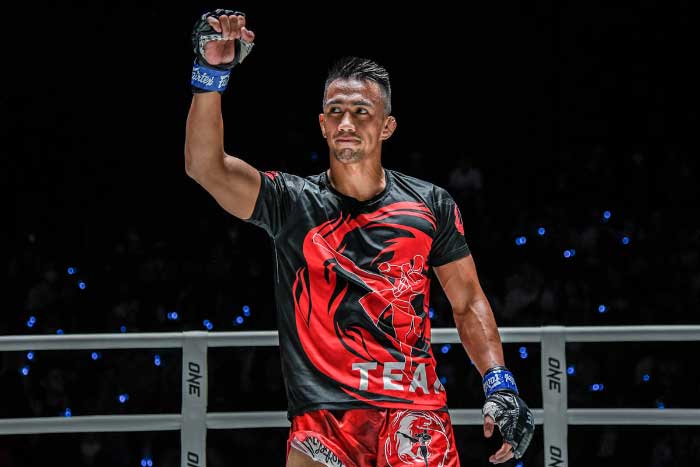 By Leobert Julian A. de la Peña
Another upcoming Filipino mixed martial artist (MMA) is on the rise currently competing in the ONE Fighting Championship international stage.
Carlos Alvarez, one of the talented new breeds of the PHL-based MMA stable Team Lakay, just pulled off another dominant showing after scoring a submission win over Iranian opponent Sadegh Ghasemi last July 14, 2023, held at the Lumpinee Boxing Stadium in Bangkok, Thailand.
The submission artist only needed two rounds to take care of his business in Thailand and did it in style after successfully choking out Ghasemi.
It was a dominant performance for the striving Filipino MMA fighter after immediately imposing his will in the opening minute of the first round.
After hitting Ghasemi with several quick jabs, Alvarez then decided to take the fight to the ground and bullied the Iranian with his strong grappling game.
Alvarez out-maneuvered Ghasemi on the ground and just asserted his mastery after attempting several submission moves but the Iranian was able to escape and survive what could have been an early defeat for him.
The Team Lakay standout did another attempt of submitting Ghasemi in the final minute of the opening round. However, the Iranian managed to crawl his way out of the bad position and evaded all the attacks before the bell rang.
Alvarez continued to step on the gas pedal in the second round and haunted Ghasemi inside the ring with his constant pressure of moving forward.
After another takedown was scored, Alvarez didn't waste his time anymore and perfectly locked up Ghasemi in a choke position.
With 1:23 remaining in the second round, Ghasemi had no choice but to give up and tapped out after failing to escape the tight guard Alvarez gave him.
The huge victory helped Alvarez earn his second-straight ONE FC win and is still undefeated since his debut fight last April 2023.