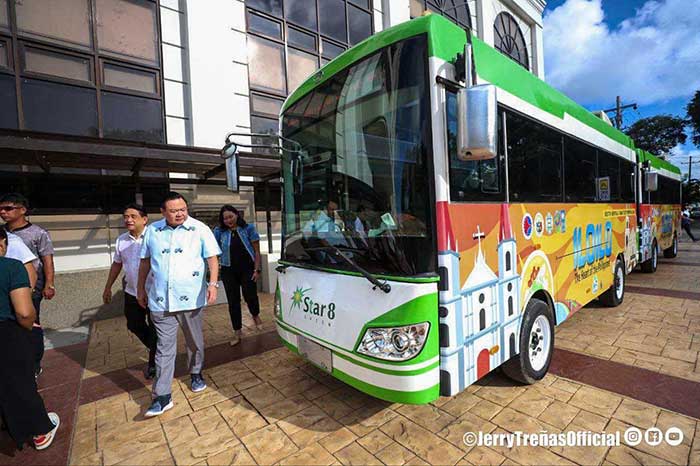 By Rjay Zuriaga Castor
The city government of Iloilo is doubling its efforts for green energy transition after receiving two electric public utility vehicles from the United Nations Development Programme (UNDP) on Monday, November 6.
The two new electric vehicles will be turned over to the Aerostar1 Transport Multi-Purpose Cooperative and will operate on the Buntatala-Tagbak to Iloilo City via Lapuz route.
"We are looking forward to more electric vehicles for Iloilo City so that we can reduce our carbon footprint," said Iloilo City Mayor Jerry P. Treñas in his message during the turnover ceremony.
The turnover of the new electric vehicles was made possible through the Promotion of Low Carbon Urban Transport Systems in the Philippines (LCT) Project of the UNDP.
In a press conference afterward, Treñas said that the city will receive eight more electric vehicles from the UNDP, which are expected to be delivered within this year. These electric vehicles will also be turned over to several transport cooperatives in the city.
Gwyneth Anne Palmos, UNDP program analyst, noted that Iloilo City is one of the cities in the country that is at the forefront in the promotion and commercialization of the low-carbon transport sector.
"Iloilo City, as we know, has been initiating pioneering sustainable transportation initiatives," she said.
She further commended the city government's efforts in pursuing sustainable transportation designed not only to reduce traffic congestion and emissions but also to create a more livable and equitable urban environment for the Ilonggos.
The LCT project, implemented by the Department of Transportation and UNDP and supported by the Global Environment Facility, aims to create an enabling environment for the commercialization of low-carbon urban transport systems.
Three of the components of the project include policy support for the promotion of low-carbon modes of transport, awareness and institutional capacity development, and private sector participation and investment in low-carbon transport systems.
In February 2022, the UNDP conducted a capacity-building workshop in Iloilo City and its transport cooperatives for the realization of the LCT project.
The UNDP noted that the workshop has helped the city government in identifying problems and formulating solutions in the transport sector.
It can be recalled that in September of this year, Iloilo City welcomed its first-ever electric bus through the collaboration of SM City Iloilo and MORE Power Iloilo.