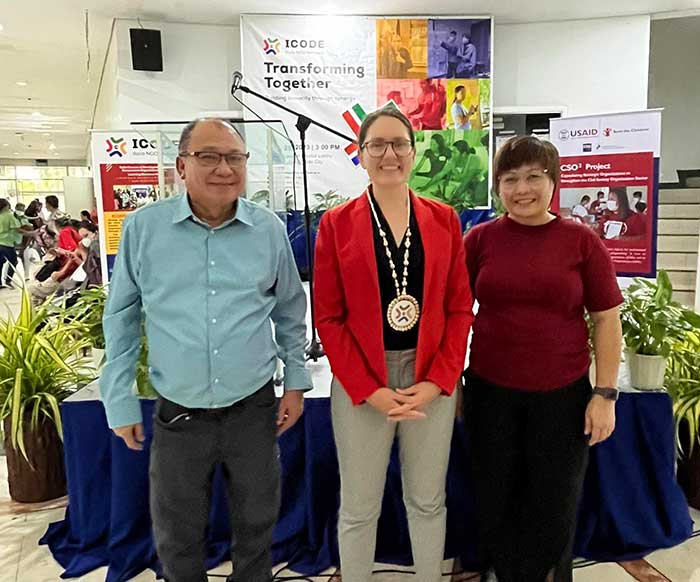 By Rjay Zuriaga Castor
The Iloilo Caucus of Development Non-government Organizations (ICODE), the largest and oldest group of NGOs in the province, introduced its new identity to the public as a result of a partnership with the United States Agency for International Development (USAID).
ICODE on Monday announced the launching of its new website and strategic identity overhaul to enhance its organizational capabilities and to keep up with the changing development landscape.
"We started working for enhanced organizational capabilities in 2021 through the Capacitating Strategic Organizations to Strengthen the Civil Society Organization Sector (CSO2) project,"  said ICODE executive director Emmanuel Areño.
The CSO2 is a three-year project of USAID that seeks to empower civil society organizations to effectively deliver services and sustain development results. Iloilo City and Cagayan de Oro City are the two beneficiaries of the project.
The key areas of focus of the CSO2 project include the update of ICODE's strategic plan, leadership competency enhancement, succession planning, and bolstering resource mobilization and financial stewardship.
"We are very grateful for the assistance of our partner, USAID, and Save the Children Philippines, for it boosted our readiness to face new challenges, especially with the advent of digital technology and social media; hence, the identity overhaul," added. Areño.
Andrea Halverson, USAID Philippines Director of Health, said the agency's support for ICODE is rooted in the principle of promoting locally-led development solutions.
"This process empowers local actors, including individuals, communities, networks, organizations, private entities, and governments, to shape their own development agenda, design solutions, and harness the capacity, leadership, and resources needed to bring those solutions to fruition," Halverson added.
Iloilo Governor Arthur Defensor said the province has appropriated funds to develop and strengthen the capabilities of its 80 accredited CSOs.
"We look forward to the active participation and commitment as we aim to establish a more responsive and inclusive direction toward a responsive, robust, globally competitive, and resilient province of Iloilo," Defensor added.
Meanwhile, City Mayor Jerry Treñas commended the programs for good governance, poverty reduction, disaster risk reduction, and sustainable development of ICODE in the city.
"ICODE is not just a network of civil society organizations but a movement that brings together all advocates who are committed to making Iloilo City the best for its people. With your help, we can build a city that we all can be proud of," Treñas added.
ICODE was organized in 1992 and registered with the Securities and Exchange Commission in 1994. It currently has 15 active member organizations.