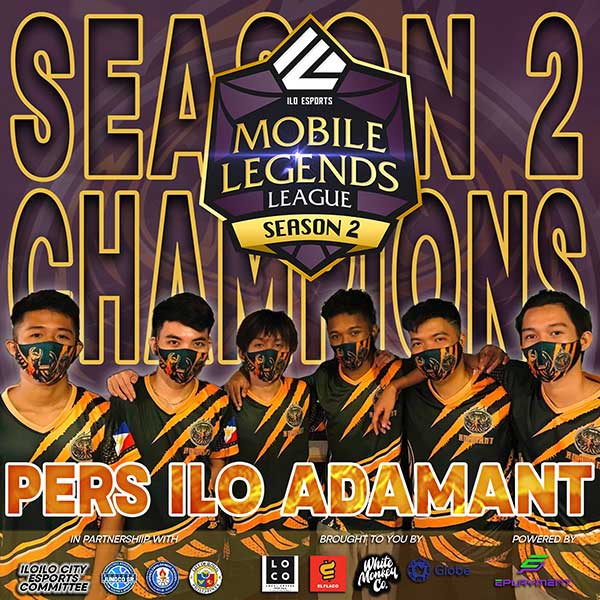 By Leobert Julian A. de la Peña
Payback season indeed.
After suffering a shocking early exit during the first season of the ILO Esports Mobile Legends: Bang Bang (MLBB) League, the powerhouse PERS-ILO ADAMANT squad concluded its revenge tour with a championship title after emerging as kings of MLBB during the recently concluded Season II.
It was a flawless display of teamwork for PERS-ILO after sweeping team SUE Slytherin, 3-0, in the grand finals and were dominant in all three matches.
The roster of Rod Stewart Trevallies, Manaf Kassim, Christopher Demafiles, Ralph Roland Hingco, James Subradil, and Alren Adle headed to their final test and were the favorites to win the title against the underdog Sue Slytherin squad.
PERS-ILO didn't disappoint and immediately went to work in the first game, 16-10, to take a momentum-boosting 1-0 finals series lead.
Sue Slytherin attempted to disrupt PERS-ILO's map control in the second game but a dominant outing from Stewart's Karina turned the tables around and helped them finish the game with a convincing 17-4 win.
PERS-ILO then saved the best for last after putting on a clinic in the third and final game of the championship series with a 28-8 title-clinching win.
Stewart was still unstoppable and led PERS-ILO with his signature Ling hero and tallied 10 kills, 0 deaths, and seven assists.
With his consistent outing in all the three games, Stewart was awarded as the Finals Most Valuable Player (MVP) with two terrific Ling performances and a steady Karina pick in the second game.
"Assembling the local Esports community after more than a two-year drought in face-to-face gaming events is both an honor and a privilege. I would sugarcoat it if I'd deny the blood, sweat, and tears I had to endure running the event with minimal resources but seeing the competitive spirit and camaraderie of the Ilonggo Esports crowd just washes it away.  I'm excited on the next phase of the Ilonggo Esport endeavor and I look forward to what the future holds for the community," said ILO Esports main organizer Mr. Jamar Montehermoso.
Mr. Montehermoso and the ILO Esports would like to thank the Iloilo City Government especially the Iloilo City Sports Development Division and the Eplayment gaming wallet.