"No matter what happens, girls support girls, and girls are always for girls."
This is the short yet meaningful response of Gecille T. Abeleda, grade 9 student of Quezon City High School, when asked about the most significant lesson she learned from joining the Tagisang Robotics Competition (TRC): Girls & Gears; and she is proof of its triumph to become an intense yet friendly competition that piques young girls' long-standing aspiration for equality and unites them to fight for one specific advocacy – to celebrate women and champion their absolute potential to take part in robotics and engineering.
When joining competitions, contenders surely have one ultimate goal: to win. But for the pioneers of the TRC: Girls & Gears, the main dream was never to just win the battle, but to break the norms that try to render girls weak and voiceless.
More than aiming to win the highly coveted TRC championship title, the TagRobo girls hope to prove that girls are more than just girls and that they have what it takes to take part in highly male-dominated STEM competitions.
Most particularly, in robotics, they aim to evince that even in the supposed game of men, girls can earn their place and represent Filipinas well.
All of these they have achieved as they turned tables in a trailblazing all-female robotics battle, and successfully finished the championship round of the competition – courtesy of the Department of Science and Technology – Science Education Institute (DOST-SEI).
Slaying the competition, one task at a time
Embodying the best of ingenuity and the broadest of skills, the TagRobo girls battled it out for the final game of the competition, acing every challenge and exhibiting their power to move, sense, and deliver.
Conducted on August 16, 2023, at the Philippine International Convention Center in Pasay City, the Championship Round focused on the holistic capability of the school-teams to perform the robotics tasks, showcasing their mastery of interfacing and programming their mobots.
Dr. Randolf S. Sasota, Supervising Science Research Specialist of the DOST-SEI, formally opened the TRC: Girls and Gears Championship Round.
In his message, Dr. Sasota reiterated the vital role that women and girls play in Science, Technology, Engineering, and Mathematics (STEM) and how crucial their presence in these fields is to the country's economic and social prosperity. He encouraged the TagRobo girls to continue using their voices to take bold, concerted actions towards equality in STEM.
Meanwhile, to guide the TagRobo girls in doing their task-based challenges, Engr. Edison A. Roxas, professor at the University of Santo Tomas Department of Electronics Engineering, presented the mechanics and criteria for judging. He wished the girls good luck and congratulated them for their hard work and drive in honing their skills in coding, programming, and electronics.
Joining Engr. Roxas in assessing the performance of the girls were University of the Philippines Diliman Electrical and Electronics Engineering Institute (EEEI) professor Engr. Percival Magpantay and Ateneo de Manila University School of Science and Engineering professor Engr. Carlos M. Oppus, his fellow veteran TRC judges and members of the competition's technical working group.
With the final tasks being score-and-timer based, the TagRobo teams truly showed that they have fully capacitated themselves with knowledge on how to control and program Arduino-based Microcontrollers interfaced with different peripherals such as servo and direct current (DC) motors, line and color sensors, and outputs such as red, green, and blue light-emitting diode (RGB LED) and organic light-emitting diode (OLED) to maneuver around a grid-designed playing field.
The championship round commenced after a series of preliminary rounds which, specifically, were designed to enrich and test the teams' mastery of basic, intermediate, and advanced mobot build and programing. For the second and third preliminary rounds, time-based tasks were also included, determining the fastest mobots with correct color detection, pallet lifting sequences, and output display.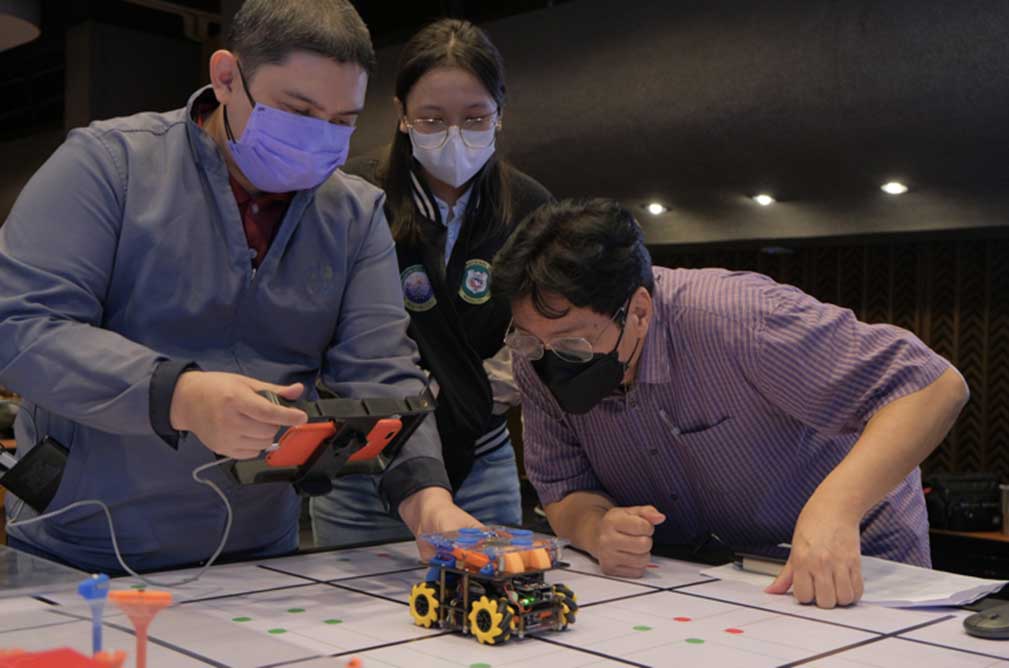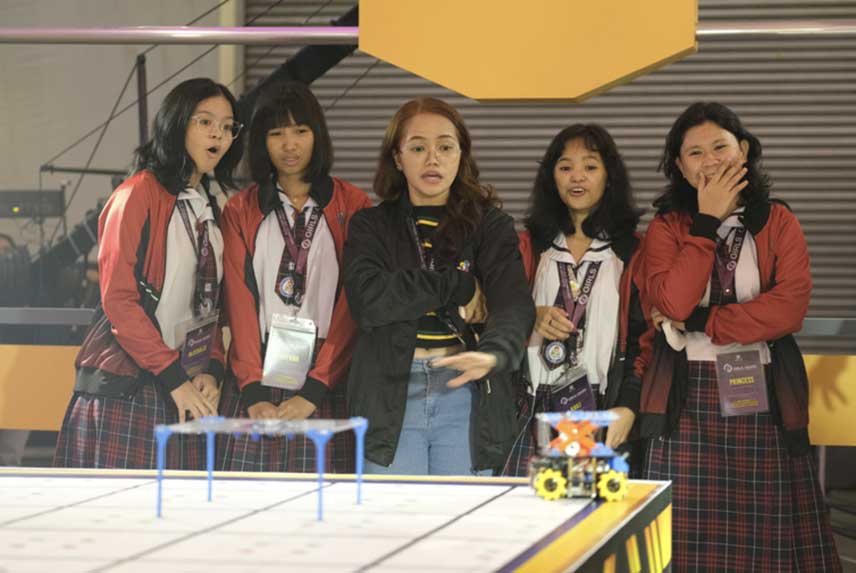 With all the phases they have undergone – from the technical training and workshop to the preliminary rounds and championship game – the girls have repeatedly expressed their deep appreciation and fascination for the competition's strong and vital advocacy.
They shared that the TRC: Girls & Gears was an undeniably remarkable experience and a true testament to the DOST-SEI's commitment and dedication to foster an open and diverse scientific community for women and girls.
"So knowing that most STEM-related competitions na 'pwedeng salihan ay meant for boys, this competition parang solidifies that girls have the right to be here, [and that] girls deserve the same quality of skills and training that the boys have," said Dalila Isabel De Los Santos of Manila Science High School.
The TagRobo girls admitted that most of them were new to robotics. Hence, joining the TRC: Girls & Gears has helped increase their awareness that there is such discipline that they can pursue, which, in a way, has also boosted their eagerness to discover other careers in STEM.
Creating history, not by awards but their bravery
On the same day of the final game, the first-ever TRC: Girls & Gears champions were named.
Besting the 20-participating school-teams, Rizal National Science High School was crowned as the first champion of the first and only all-female robotics competition in the country. They were followed by Rizal High School as the 2nd placer and Caloocan National Science and Technology High School as the 3rd placer.
Below are the names of students, with their coaches, who were conferred with place awards for the TRC: Girls & Gears Championship Round:
Champion
Rizal National Science High School
Airish N. Alonso

Kristine I. Butaran

Janielle M. Loyola

Maica Miyabi A. Santos

Marlon P. Sta. Catalina (Coach)

 

2nd Place
Rizal High School
Princess N. Ada

Hazel Faye L. Bangcaya

Kurtney Adelline A. Bihag

Xia Gloridan M. De Nieva

Marlo A. Alvarez (Coach)

 

3rd Place
Caloocan National Science and Technology High School
Sophia Abigail T. Bandoy

Anjae Maria S. Bejerano

Janella Mairabelle L. Campo

Anika Louisse N. Sujratos

Rex Mendel Capili (Coach)
The teams took home certificates, trophies, and cash grants worth Php 100,000.00, Php 75,000.00, and Php 50,000.00, respectively. Coaches of the top three (3) teams also received cash grants.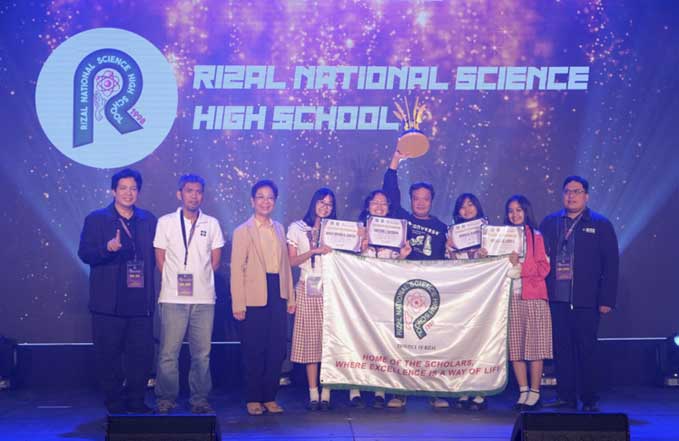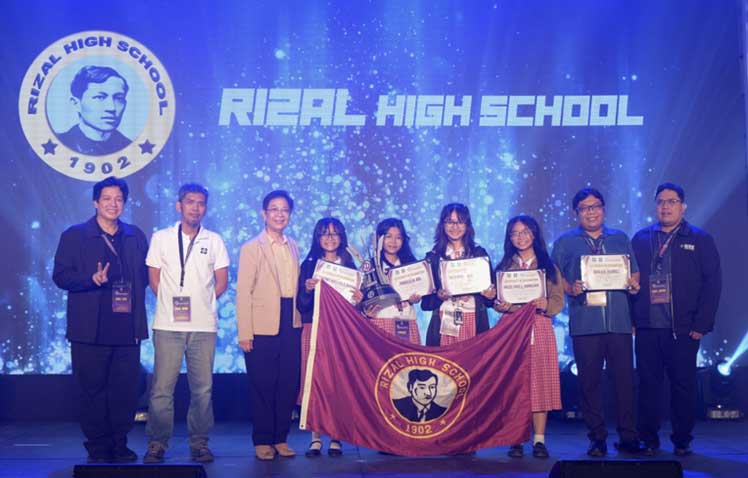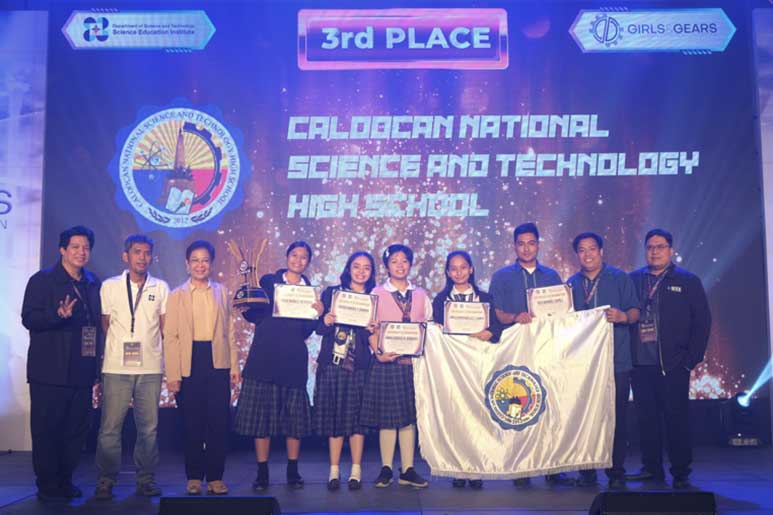 Through a short yet sweet message, Engr. Oppus described how it was like to witness the extraordinary performance of the TagRobo girls in running their mobots and expressed hopes that more girls would join robotics competitions that promote equality, inclusivity, and diversity. He congratulated the girls for finishing the cycle and wished them luck in their future endeavors.
The DOST-SEI also awarded the best-performing school teams during the three (3) successive preliminary rounds of the competition. Quezon City High School (QCHS) and Taguig Science High School (TSHS) tied for first place during the first round. TSHS once again got the highest score during the second round, while Valenzuela City School of Mathematics and Science (VCSMS) topped the third round. All of them received certificates and special tokens from the Institute.
The TagRobo teams proved that girls have what it takes to rise above the challenge, whenever and wherever. And with their robotics experience, they hope to inspire more young girls to take the quest and also venture into various STEM-related competitions.
"Kami as participants, since we're all women, we can serve as an inspiration to other girls na interested din to learn robotics to take the challenge kahit wala silang background sa programming. So maiinspire sila na parang 'kung kaya nila, kaya rin namin,'" said Kristine I. Butaran of Rizal National Science High School, the first TRC: Girls & Gears school champion.
The TagRobo girls were glad to have participated in the competition as they picked some lessons which would prove beneficial in their future journeys. They echoed how the training, practice rounds, and champion game have uplifted their confidence as girls and enlightened them about the true essence of joining such kind of competitions.
"This competition can really help me in the future because even if we're having a hard time, even if we're not succeeding or ranking that high, we're still gaining experience. And I believe that losing doesn't mean that you're a loser. It just means that you're always gonna end up finding something that you're gonna improve on," said Rijana Lake S. Catacutan of Manila Science High School when asked about how she thinks this robotics competition experience can help her in her future studies.
After joining the competition, Rijana plans to pursue computer science. And she is sure that the experience she has gained in the competition can help her to get approved for scholarships in the future.
DOST-SEI Director Dr. Josette T. Biyo officially concluded the first cycle of TRC: Girls & Gears and commended the young TagRobo girls for their hard work, perseverance, and enthusiasm in successfully finishing the competition. She expressed hope that their TRC: Girls & Gears experience can help all of them jumpstart a career in science and technology, and eventually contribute to the growing pool of S&T professionals in the country.
The first cycle of TRC: Girls & Gears proved that winning the title makes one stand out in the competition. But nothing beats the learnings, newfound camaraderie, and empowerment that all the girls have gained throughout the competition, which could make them the future's brightest young Filipinas in the field of robotics.