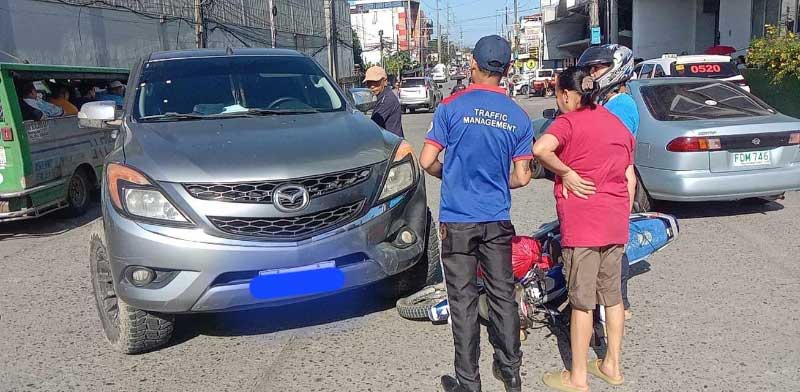 By Joseph Bernard A. Marzan
Trainors from the Metro Manila Development Authority (MMDA) on Tuesday committed to developing traffic enforcers of the Public Safety and Transportation Management Office (PSTMO) differently than how they are perceived in the National Capital Region (NCR).
MMDA personnel were invited by the city government as part of its "Traffic Academy" for the PSTMO's traffic enforcers.
Part of the program are trainings on Road Works Traffic Management, Traffic Direction and Control, Traffic Incident Management, and Special Events Traffic Management.
MMDA Director for Traffic Education Antonio Pagulayan said they will build the capacity of Iloilo City enforcers, with modules geared towards orienting them on operations.
In a press conference during their courtesy call with Iloilo City Mayor Jerry Treñas, Pagulayan admitted that they do have recurring problems in resolving traffic issues in Metro Manila.
MMDA's focus is managing the specific issue of traffic congestion.
Pagulayan added that traffic is "one of the consequences" of progress for cities like Iloilo.
"The training of our traffic enforcers is really important because they will be the ones to man our roads. We believe that with our partnership with the local government unit, we would impart our experiences in Metro Manila, which we wouldn't want to happen here, because [there] we have sunk in experience and we don't want the [Iloilo] city government to have to experience that," Pagulayan said.
Pagulayan added that they may also be able to come up with an actual training manual for the traffic cops with support from the city government, which could be more applicable to the local setting using the tools and technical expertise from the MMDA.
PSTMO chief Jeck Conlu said that the 'Traffic Academy' would be the 'backbone' of skills enhancement of its enforcing personnel, after growing complaints against erring and 'lax' traffic cops.
A total of 200 personnel will train starting August 8 to 12, according to Conlu.
Quarterly refresher courses will be conducted to keep enforcers updated on existing policy, as well as orientations on implementing newly passed ordinances.